Khalid Al-Jaaidi — Product and design. based in Amsterdam, Netherlands
Noon is the lifestyle shopping destination for the region, by the region.
Teamwork is the definition and summary of the work presented. All decisions, logic and designs have gone through rigorous team effort, combining a collective teams experience from Product Managers/Owners, UX Design, Tech and Customer Experience departments.
This was done under an extremely fast-paced and cross-functional environment.
Role

UX Design Lead
Date

2016 – 2017
For

Noon E-Commerce
Website

www.noon.com
Ios App

itunes.apple.com/us/app/noon-shopping-نون-للتسوق/id1269038866?mt=8
Android App

play.google.com/store/apps/details?id=com.noon.buyerapp&hl=en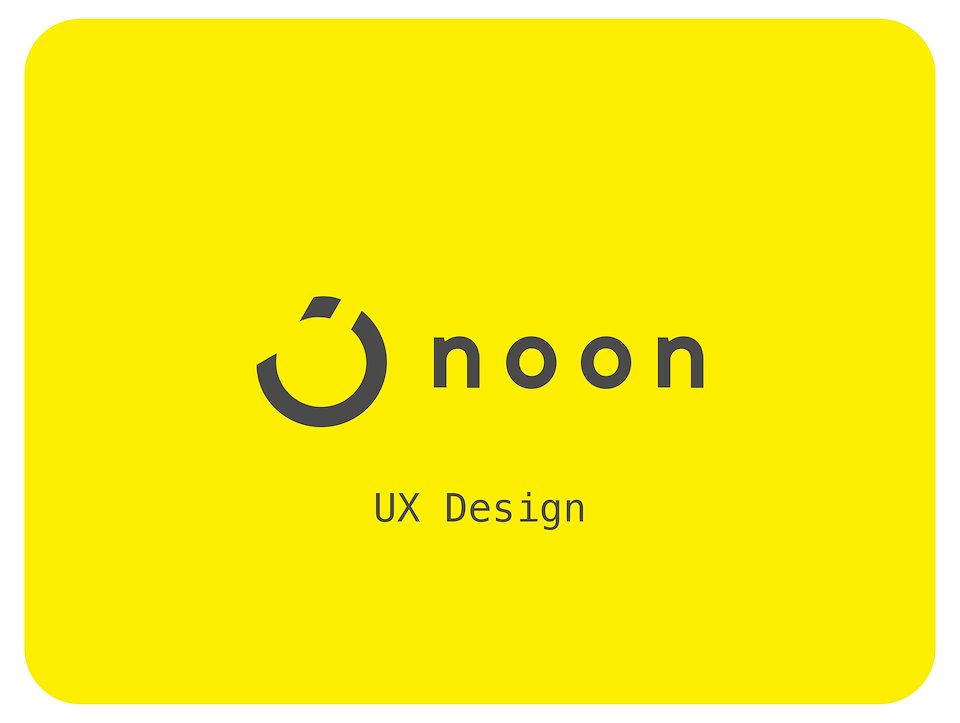 Philosophy
The UX design direction that was taken on the project here is that, as an e-commerce website, we wanted to to avoid having it feel spammy, filled with noise and trying to sell the users up on every single possible pixel and corner of the experience.
Instead, we wanted users to feel welcomed, empower them back with free will, clarity in actions and what's important on every step, every screen, but maintaining the power of contrast and information architecture. Great restraint has been practiced by all the teams involved such as UX, Product, Marketing, in minimizing and keeping only whats super important on. Everything else goes away. Starting off from a clean base, and building up on it as we go, with the users, with data.
It's extremely difficult to make it simple, and very easy to add everything. We practiced "perfection is not when there's nothing left to add, but when there is nothing left to remove".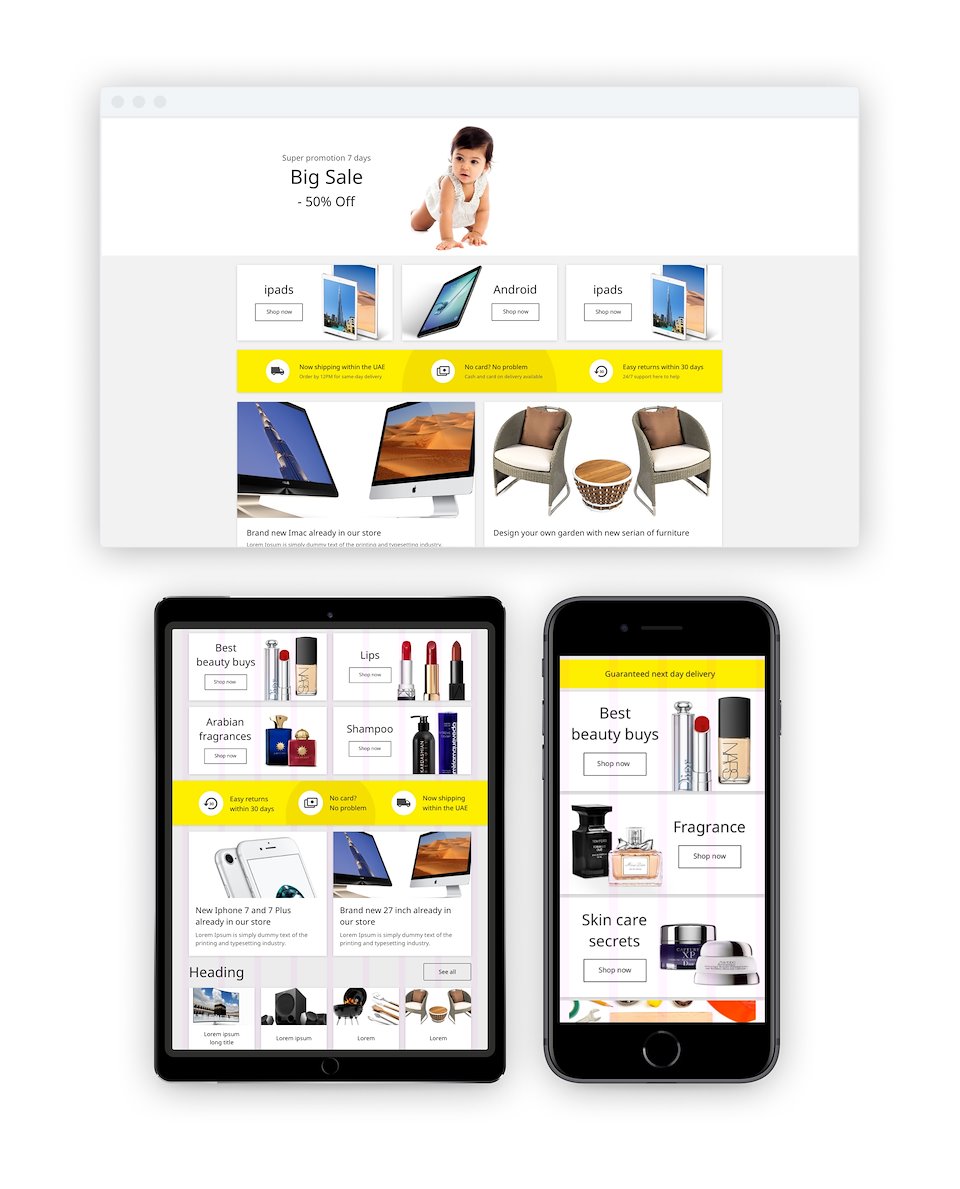 Responsive and mobile first approach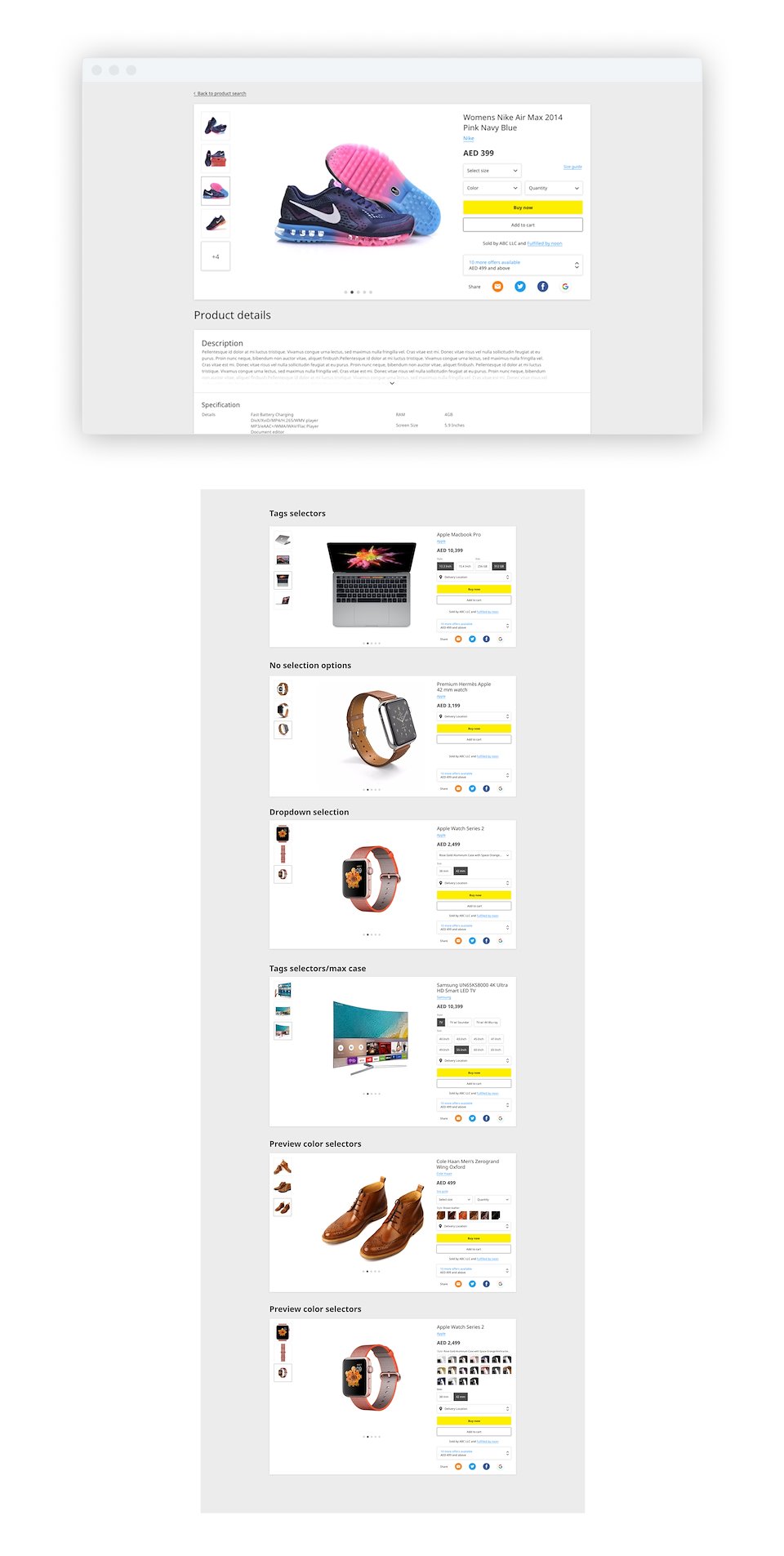 Product page
Bidirectional and local
Considering that approximately 70% of our targeted audience will be Arabic speaking, Arabic has always been given close attention from the beginning of the design and was never an after-thought. This has been one of my main responsibilities in the design team.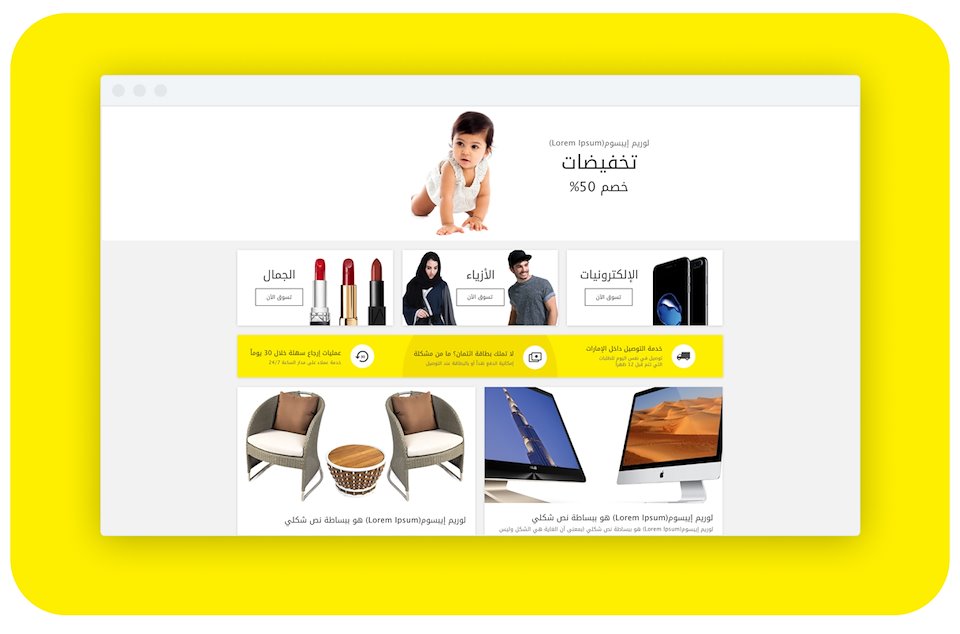 Design System
My team led the design system language efforts and was responsible for building our the product design language. It was communicated and maintained in a central place using www.frontify.com. This was accessible to everyone in the company and was contributed to by brand team who maintained the brand guidelines while the UX team maintained the pattern library. We created documentation on our patterns that covered elements from specs to guidelines.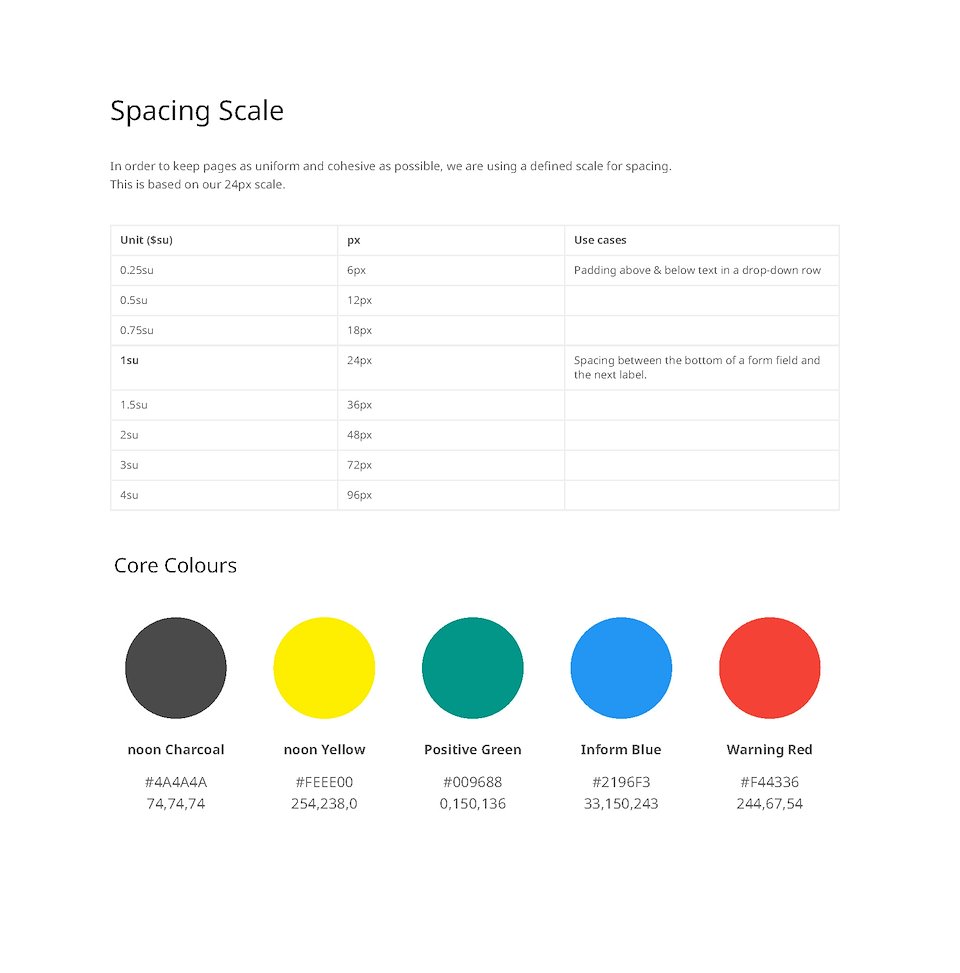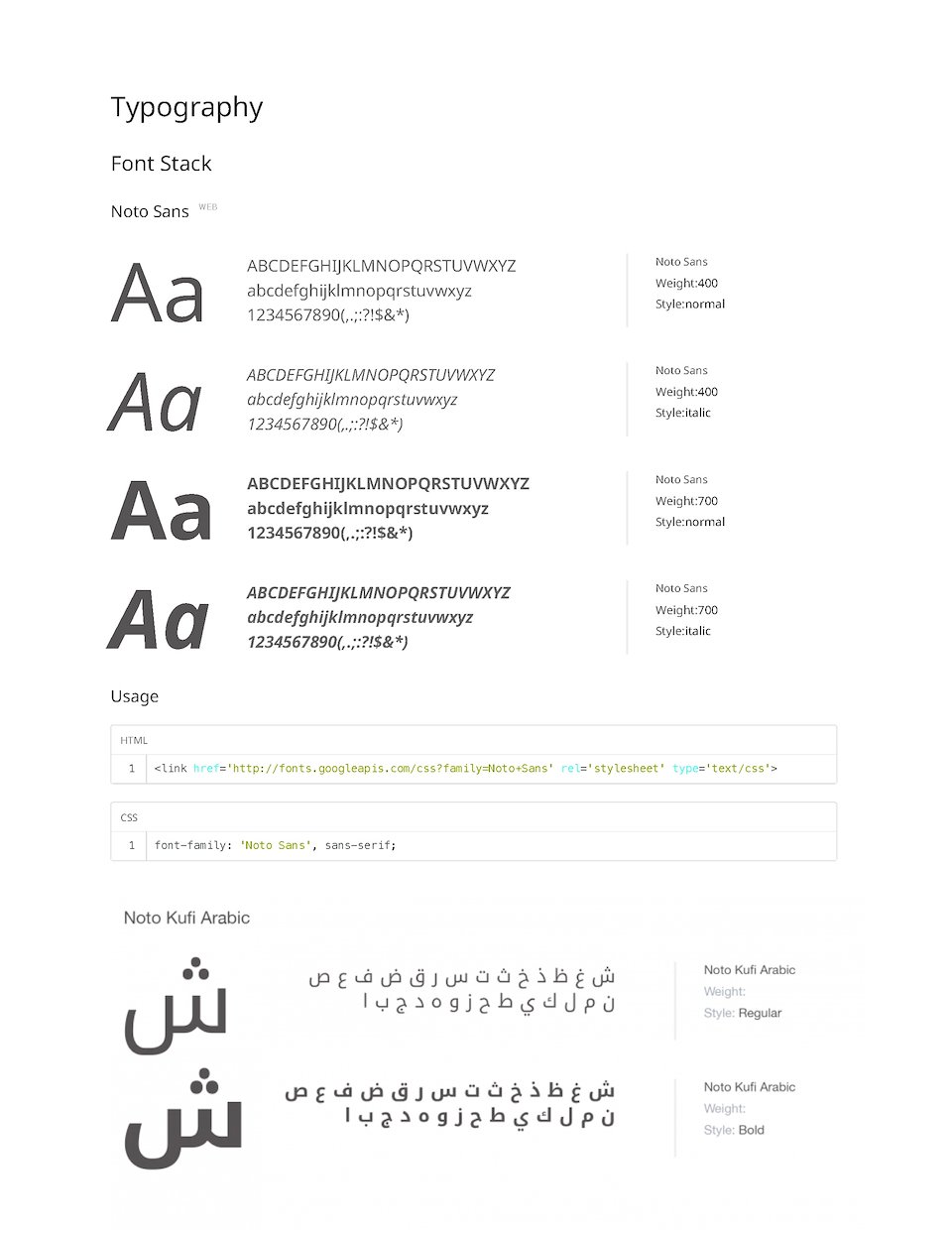 A comparison of Noto Sans and Noto Kufi Arabic in visual size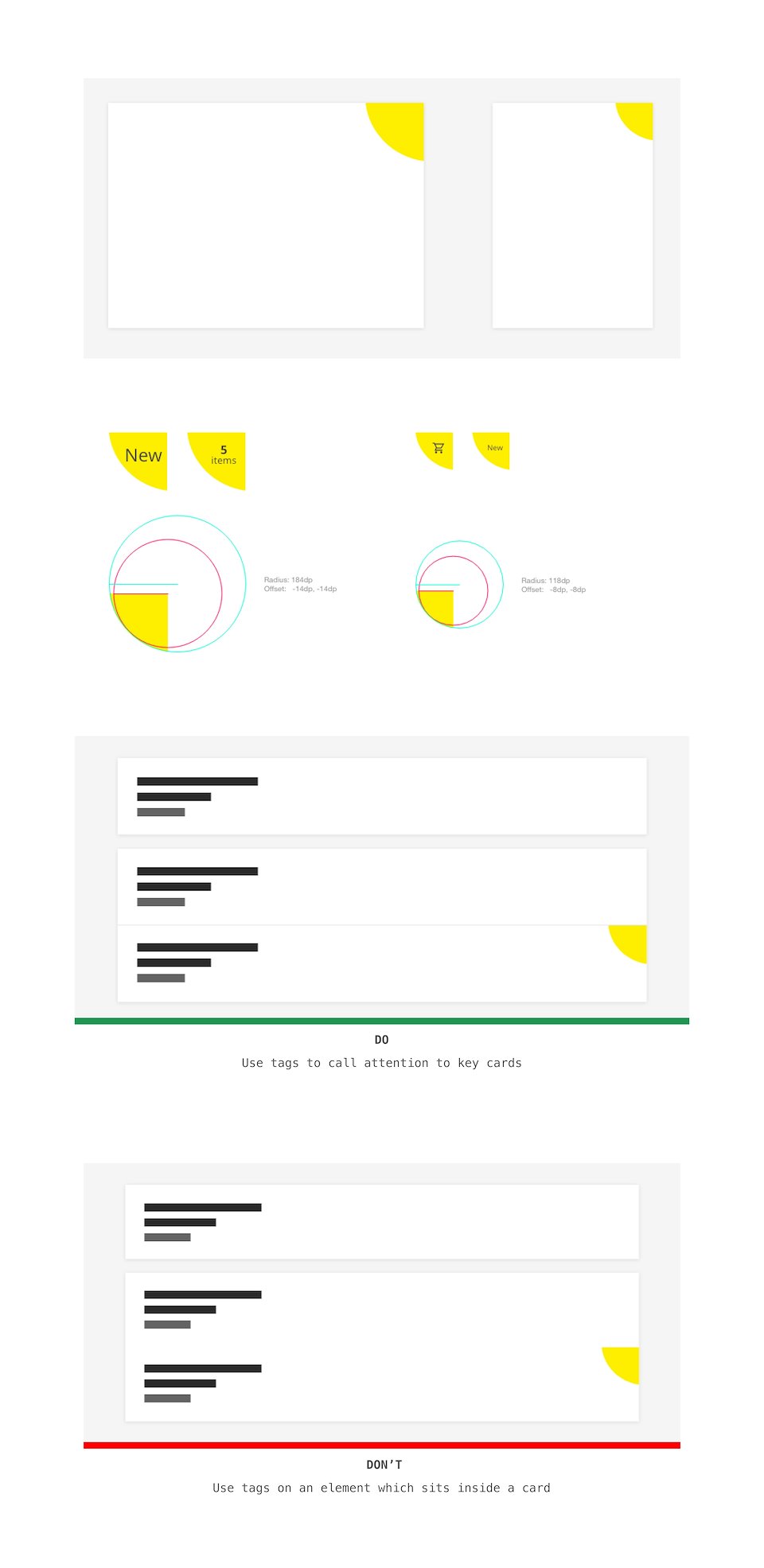 A sample of the patterns library guideline and specs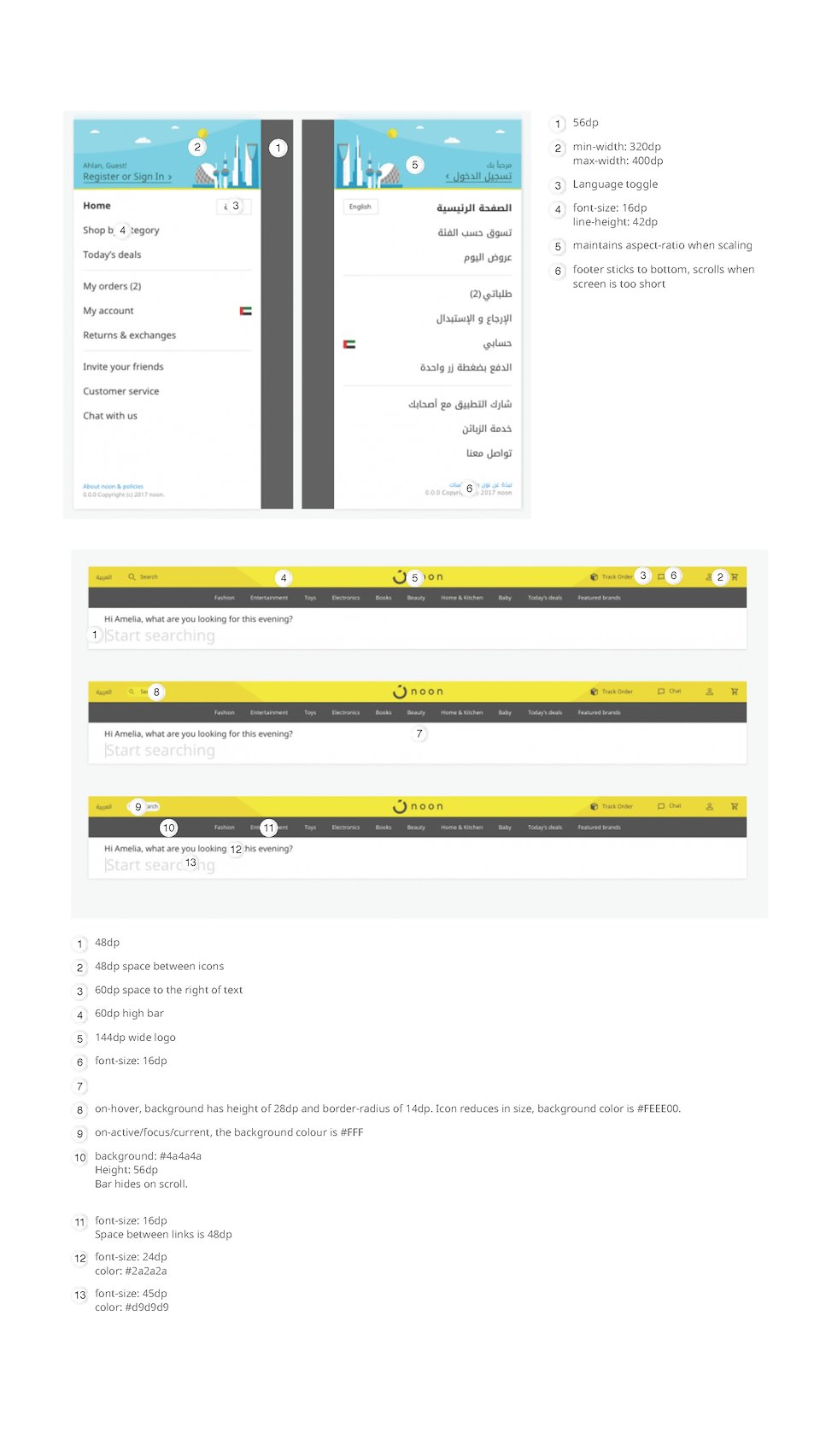 Global elements had their own documentation, these were particularly useful for Engineering
Internal Design Process and Tooling
This was the design process and tooling that I've implemented in the team, to support our extremely fast moving pace, collaborate with stakeholders, product managers and engineers, perform user testing and quickly gather feedback. Abstract was in private beta at the time of writing this.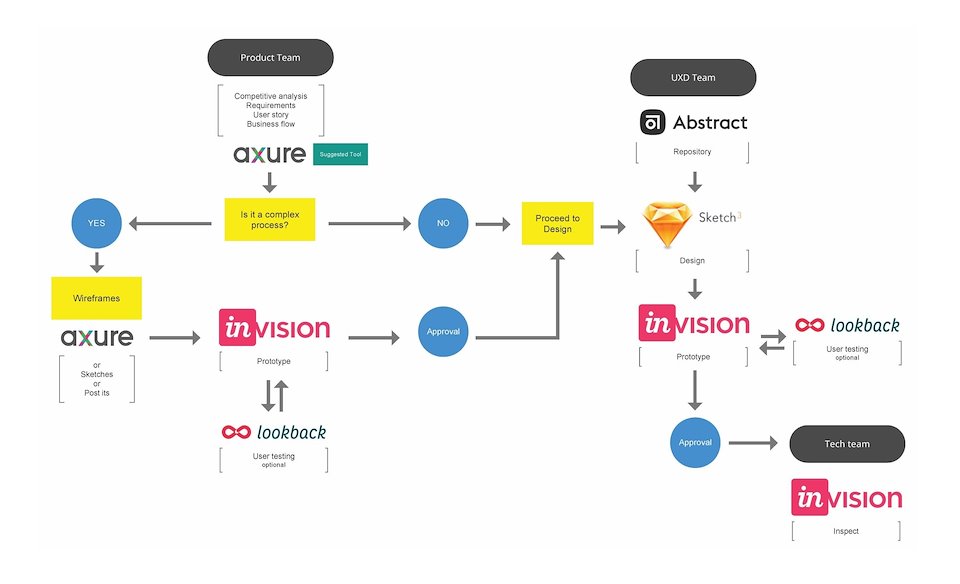 Overall process graph
---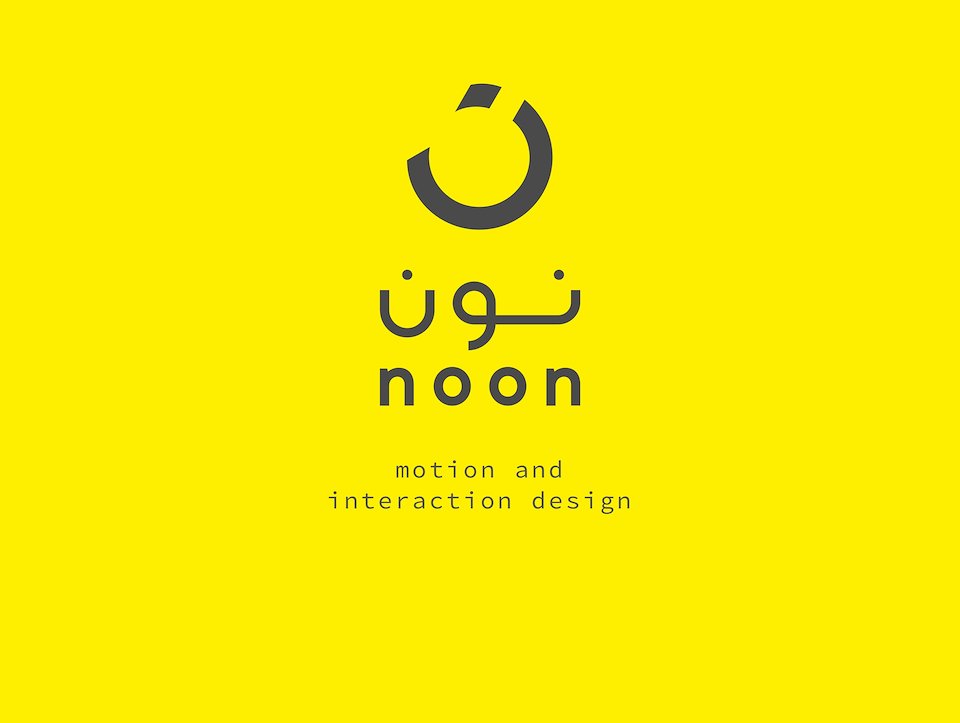 Interaction Design Model
Interaction design is a chance to pay attention to the details, refine the experience, and add to the emotional design of the experience. Its sprinkled on top of the whole experience. It's the little cherry on top, the extra mile that makes people love a product. This was my little attempt at giving Noon the extra love.
Everything has a personality: everything sends an emotional signal. Even where this was not the intention of the designer, the people who view the website infer personalities and experience emotions.
– Don Norman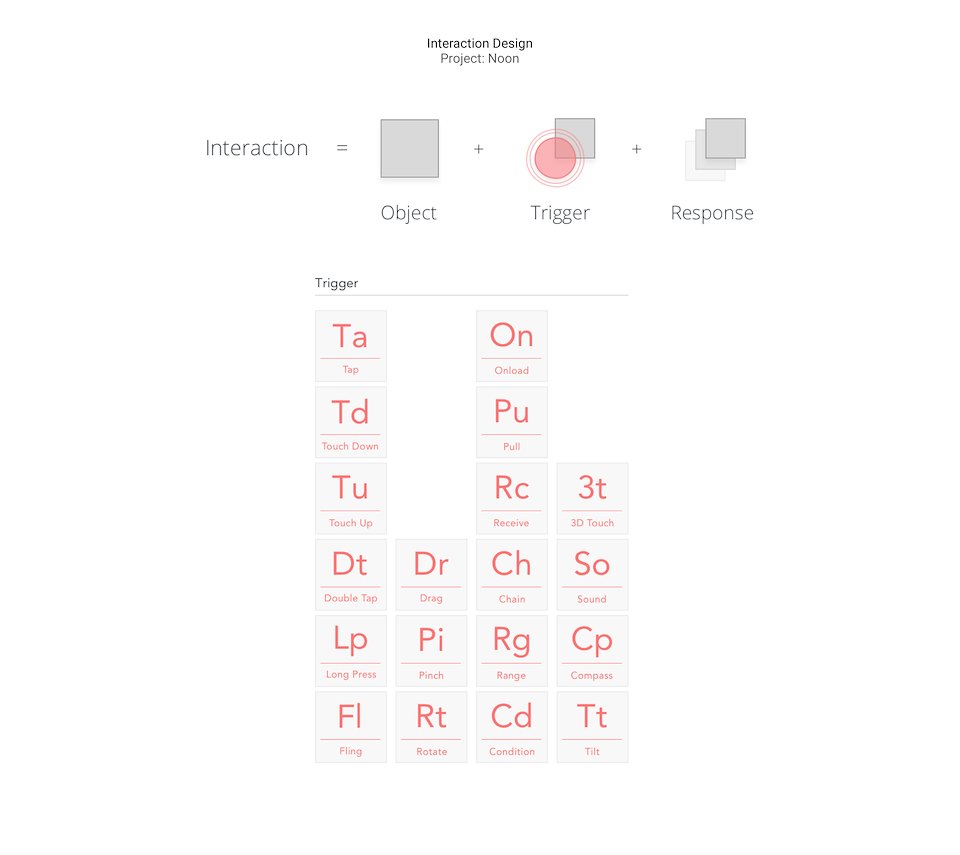 Every interaction builds on these foundational elements.
Source: www.protopie.io
First time experience on-boarding
First impressions are once, and they define your relationship for a very long time ahead with the user. What better way to bring users into your app than with a welcoming, polished and solid first time experience.
App intro
Search bar and home behavior
Adding to cart should be fun
Sometimes users missed the cart updating with the count without any motion designed, and I really didn't like the dialogue approach which interrupts the users thought process with an alert. The other alternative was to take them directly to their cart, which was also something I tried to avoid as "Add to Cart" didn't really mean "Take me to my cart after this". So instead, I came up with a motion interaction that would be fun, informative, and tells the user exactly what happens, and shows them their cart update in realtime.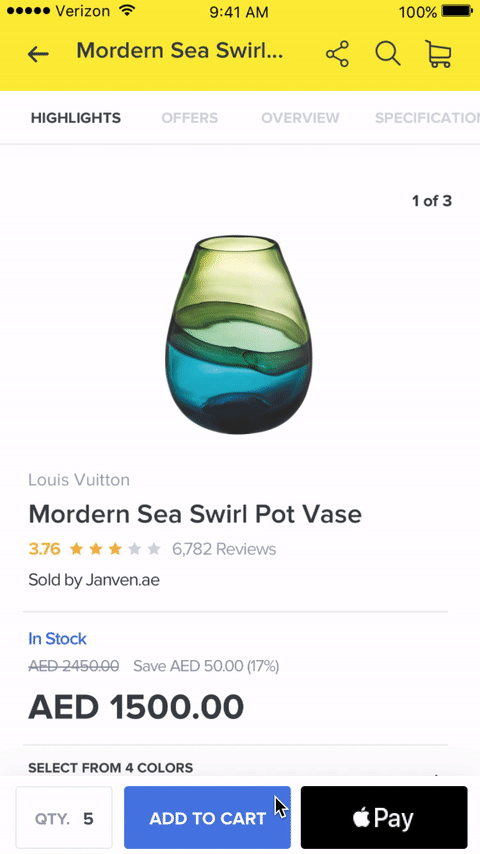 Add to cart motion design exploration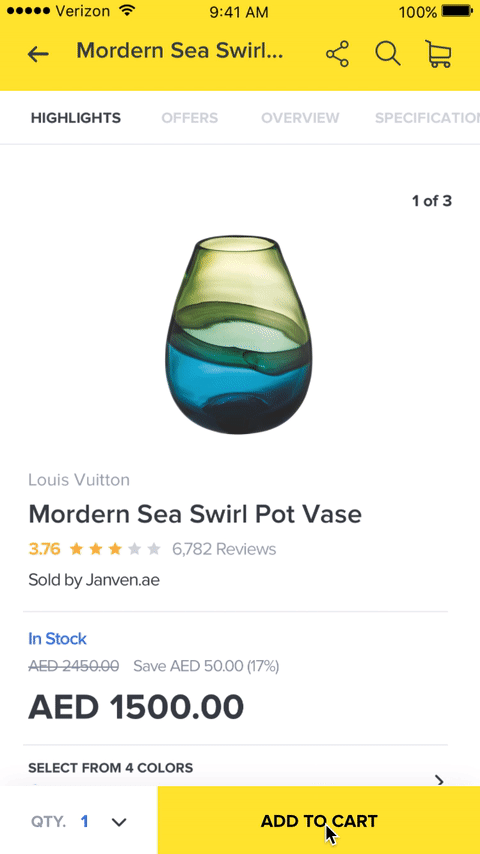 Add to cart motion design exploration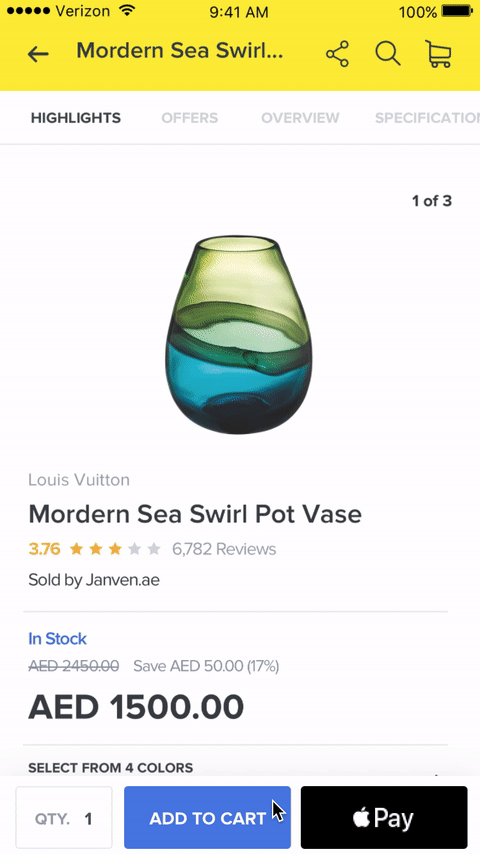 Add to cart motion design exploration
Product viewing interactions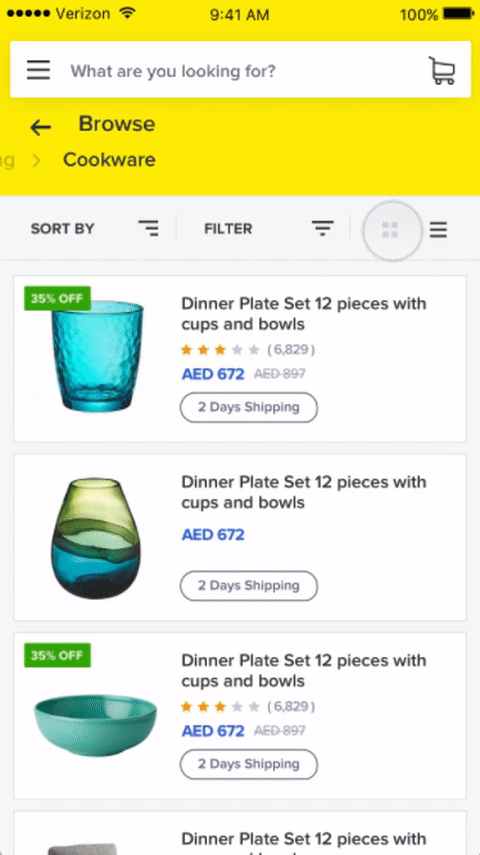 Switching between grid and list views

The entry motion choreography of elements allow it to guide the users focus and perception, and minimizes the feeling of overwhelm, by following this attention pattern for both lists and grids. Source: Google Material Design
Other interactions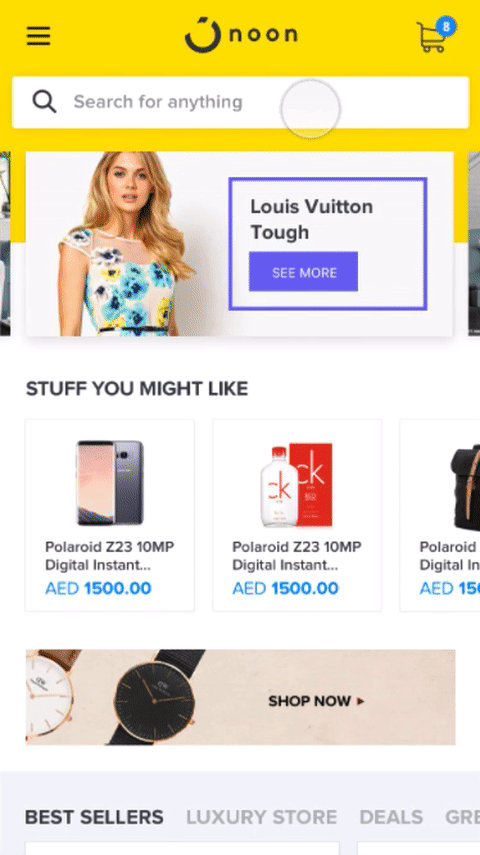 App wide search bar interaction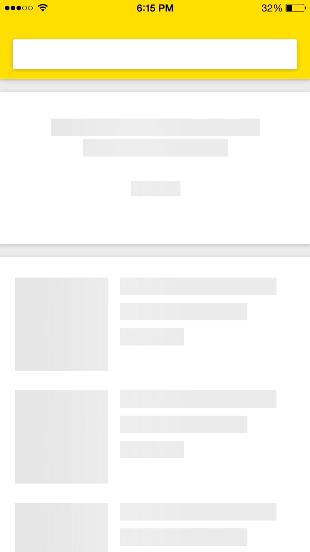 Skeleton loading gives the perception to users that this loads fast and creates the illusion that elements are already half loaded. In addition, it adds a strong layer of anticipation that is built on instant feedback letting users know that everything is under their control.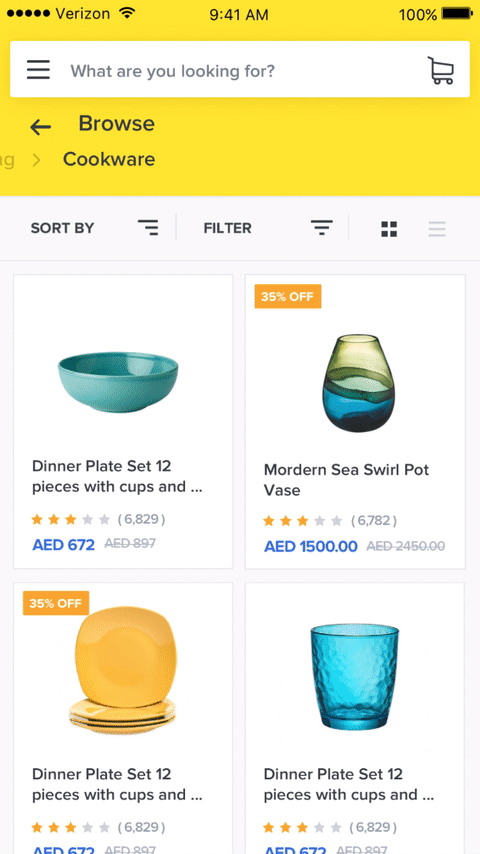 This is a rather interesting entry design, inspired by Pinterest iOS app, the motion design of this part creates an immersive experience for the user as if he's diving deeper into the app, while retaining context of where he was and where he is going.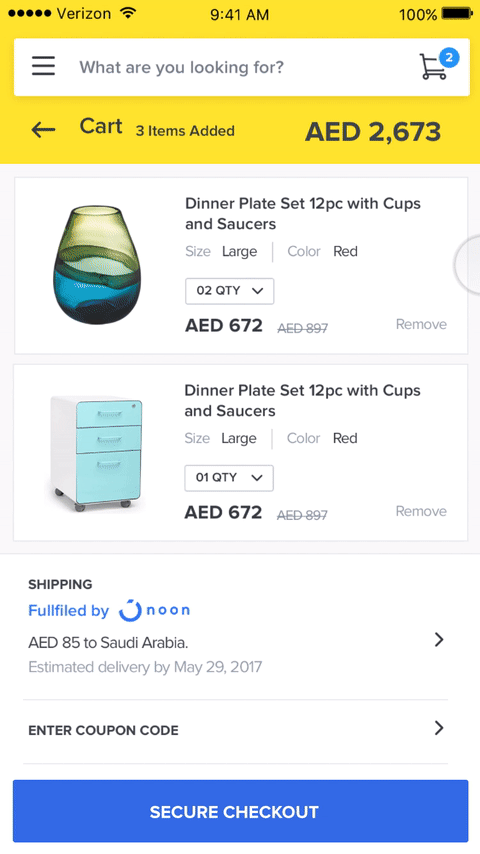 Cart management interactions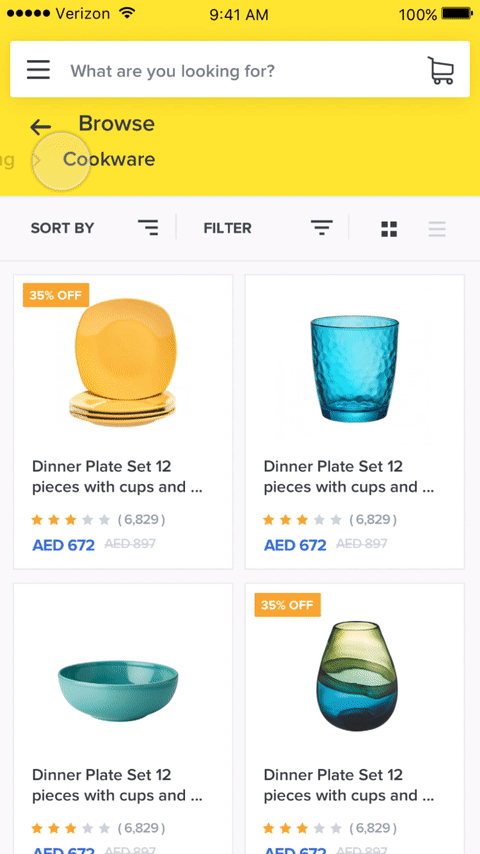 Categories breadcrumb navigation
Demo of card payment method interactions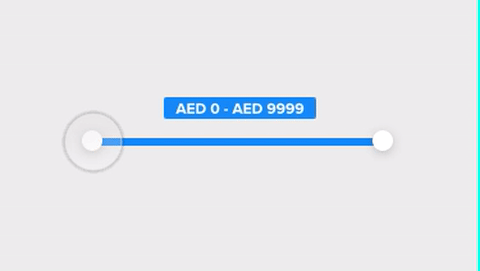 Price filter interaction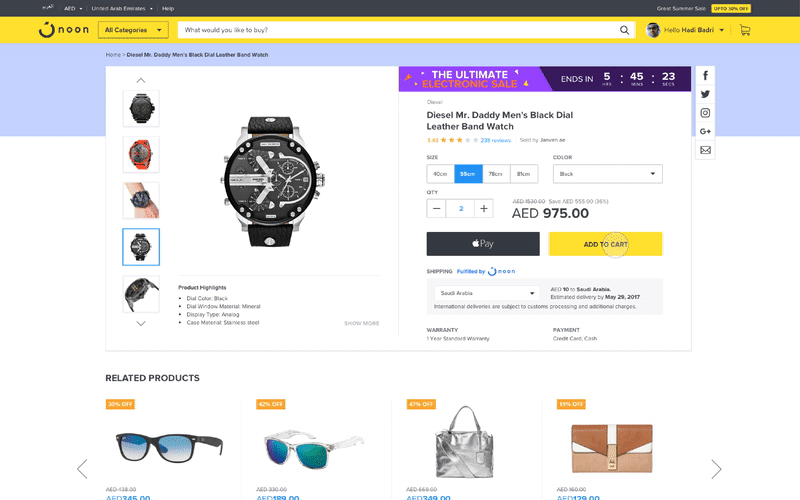 Web version of Add to Cart interaction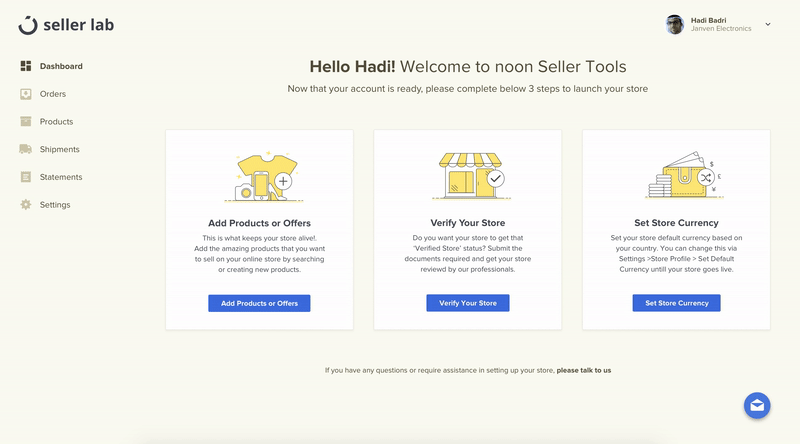 Sellers website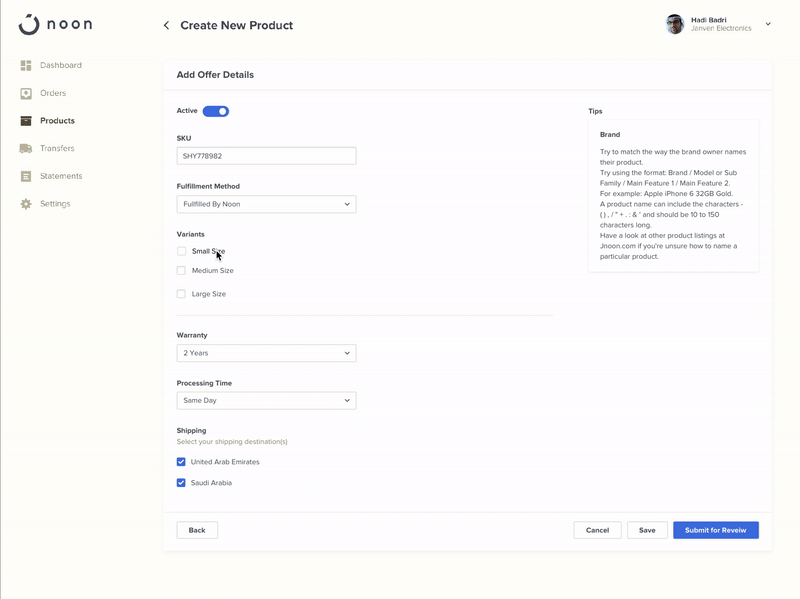 Keeping context and dealing with long forms
Closing
Noon was an intense and experience rich part of my career, I thoroughly enjoyed working on it and working with the team. It made me forever fall in love with e-commerce, not just as a design project but as a business model as well.
Previous
Destination Filter - Careem
Next
Aleef